This article has been written before more than 1 years, information might old.
Also this year again in Turin for the WordCamp!
In this edition I have only managed the Core table to the contributor day without any presentation to do.
The results were 10 people, for 7 we installed VVV between the various problems with Windows.
A new contributor made two patches one during the wordcamp and one that came home, 1 and 2.
We have revised a ticket that should be closed because it is obsolete, it is here.
Two people worked on two other patches but they did not finish and we're waiting for the upload.
I am happy that my way of proposing the core table has had results. That is to explain the features of VVV during the installation and then give a list of patches selected by me that I consider simple, reachable on https://daniele.tech/wp-ticket. In this way the whole boring part of patching is postponed and allows him to discover with a part of the system and to find out how it all goes.
Then I refer them to the national channel on our 24/7 opened slack as per our slide.
I opened a ticket from a team support discussion, available here.
The next day there was the conference and I helped the workshop dedicated to WP-CLI.
On the community side, on the other hand, we had a lot of fun.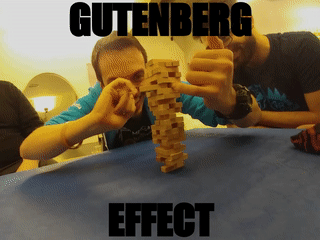 This is the Gutenberg effect that I will now try to explain!
On WordPress community we are working on this plugin for a long time that has split the community because it revolutionizes not only the interface but also many internal things and is not yet complete.
Today, in fact, the 5.0 release of WordPress is waiting for the official release of Gutenberg.
My personal point of view (shared by others) is that Gutenberg, however beautiful, has many problems and the community of users is perhaps ready but that of the developers is not. The interface has some shortcomings (eg open links in another window or API for metabox) and developer side with the fact that changes the post_content with a mixture of html and other things complicates things.
In short, the effect I have is that I touch him from a distance carefully and I cannot wait to pass the ball to someone else. So let's say it's a Jenga effect!
At the end of the conference there was the after party, I proposed to sing Battisti and they made me sing alone at the microphone. Needless to say, I lost my voice right there and not during the conference as usual.
Group photo: https://www.facebook.com/WordCampTorino/photos/a.758198644304367.1073741840.332582443532658/758220817635483/?type=3
Photo as teacher that I do usually during the week on #core-help, this time in live: https://www.facebook.com/WordCampTorino/photos/a.758198644304367.1073741840.332582443532658/758199257637639/?type=3
We then got to talk about the next wordcamp and things to do.
Next WordCamp for me? Bologna in May dedicated to developers!